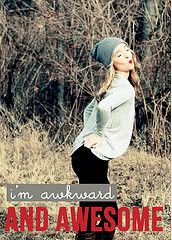 The Daybook is one of my favorite blogs out there! Not only does Sydney have the best style, but she is absolutely hilarious. One of my favorite features on her blog is Awkward and Awesome Thursdays. I thought I would participate this week, because my life is full of awkwardness and awesomeness.
I couldn't find a mug today, so I brought my coffee to work in a plastic glass.

We had leftovers from making Tacos. Unfortunately, I only like corn tortillas when they are fried, but I don't know how to fry them. Since Nick wasn't there to help I ended up just eating a bowl of just taco meat.

My left side of my hair never stays curled, but my right side always does. So today I am walking around looking like I only had time to curl one half of my head.

My white pants got all wrinkly and saggy yesterday. It looked like I was wearing pajamas to work...with heels?

Sweating as much as I did in front of Nick at our class at the gym. Sweating that much in general actually.

I wear glasses to work, and somehow they get smudged every 5 seconds. What is the point of even wearing glasses if I can never see?
This was my second week taking this really tough class at the gym and I was not NEARLY as sore as I was last week. Here I come beach season!!
Skype Date with the besty Jenny! We are making it a weekly tradition....miss her dearly!

It is about 30 people's birthdays this week/weekend, and my girlfriends and I are having a massive celebration.

I am getting a new TV next weekend AND my hair cut. Double Rainbow!

I recently found a new show to watch on Netflix.

Giuliana & Bill

!! They are the cutest couple in the world. I love it.

Tomorrow is Friday. 'Nuff said.