That's right! Two posts, one day! You didn't think I could do it did ya? Don't forget my
post
earlier today! I need your help people! Tell me what to do with my mop of hair!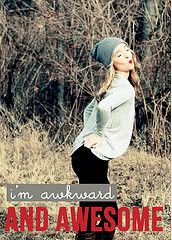 I'm wearing tights today, but because I am so short the tights go all the way up to my bra. I am unintentionally wearing a body slimmer. Thanks I guess?
A silky top fresh out of the dryer that clings to everything you DON'T want it to cling to. Good thing I am wearing makeshift Spanx.
My license picture. One word: braces

.

I wore Emerald nail polish for a week and took it off now my nails are....YELLOW
My best friend Alexa calling me out saying I would probably miss the big day party last weekend because I would oversleep. I was offended! Then I ended up missing the whole thing because....I slept through it...I hate it when she is right....
This little guy! He just wants some attention too okay?
Road trippin' with my beau this weekend! Going to his hometown in Moorpark, Ca! I am excited to see his family.
I went to my butt-kicking class at the gym TWICE this week and I didn't die!
It stopped raining and is now 65 degrees and sunny with not one cloud in the sky. I. Love. California.
Nick got me a pot of Hydrangeas (my favorite flower) and a stuffed Domo for Valentine's Day! Yay for getting me things that are unique and he knows I will love! Gold star for you babe!
Getting a hair makeover this weekend hopefully inspired by one of your ideas! Submit them here

.