...both Awkward and Awesome. Get used to it.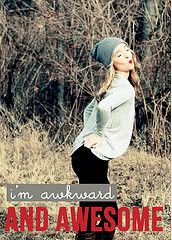 Awkward
- At my work bathroom, I usually look at myself in the mirror and go into the first stall. It is like clockwork. Well today, I looked at myself, turned around and slammed RIGHT into the stall. Somebody was in there! As bad as that was for me, I bet she had it worse. Just sitting there minding your business and someone slams into your stall??
- Public bathrooms in general. If I know someone is in there I usually wait until they leave to get out of the stall. I hate the awkwardness of washing my hands next to a stranger.
- That moment when you are talking to someone and you realize that you have NO idea what the person just said to you. Pure panic.


- My legs. Went to my booty kicking class at the gym for the first time since being sick all last week. I think it would hurt less to just cut them off entirely....
- Hudson always locks his legs when he is cuddling with me. Seriously. Stiff as a board. Do any other dogs do this?
- How many times Nick and I have made Peanut Butter 'Smores Turnovers in the last two months. They are SO good and SO easy to make. No judgement. (seriously though. Check them out. Amazingness)
- How pale I am right now. The half-Mexican in me is very disappointed. Where is the darn sun already??
Awesome
- Ny nephew is almost here! I took a peek at his closet, and he is going to be the best dressed kid on the block.
- I am going to
Vegas
in June! I am on a desperate hunt for a sexy dress that
ISN'T
skin tight. I am thinking Draped 70's Goddess. Maybe sparkly? Maybe showing a little leg? Do you guys have
ANY
idea where to get something that?
- Next week I am off to a work conference in
San Francisco!
I have never been there before, and I am so excited to discover a new city and network, network, network!
- All of the Austin Powers movies. Nick bought all three of them and we started watching them from the beginning. Friggin hilarious!
- You! You guys are awesome! Have I told you guys that lately?